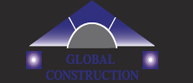 Global Construction General Trading & Contracting, established in 2004 is one of the companies that actively seek to be one of the leading enterprises in the field of contracting in the State of Kuwait. And in a short period it has actually become one of the companies classified in the Central Tenders Committee – 2nd Category for constructions and 4nd for Road constructions.
Global Construction comprises of an elite of engineers and technicians as well as equipments. It has grown a deeper experience in a wide range of public enterprises, state owned in addition to the private sector projects, as the company has implemented over 30 projects by the end of 2013 The Company's strategy is based on the horizontal expansion in increasing technical expertise and equipment and tools required for the implementation of future projects as well as vertical expansion by increasing the volume of capital required to implement such projects, Further the company, in the next phase, looks forward to cooperate with global leading companies in the contracting field to catch up with the immense progress and development projects in the State of Kuwait.
Global Construction General Trading & Contracting enjoys a good reputation in Kuwaiti domestic market for the high professionalism that characterizes its administrative, technical and executive staff. The merit which gave the company impetus to the geographic expansion in the GCC countries as the company has been selected to implement specialized projects in Dubai in the United Arab Emirates and Sultanate of Oman .
Also, we invested in a granite rocks( Gabbro) Quarry, which has high hardness and is suitable for concrete and Asphalt works in different sizes and dimensions. We entered ,as well, into agreement with NOHAS OMAN cables Factory for the exclusive distributorship in the State of Kuwait and Iraq . The manufactured in NOHAS OMAN Factory has a high quality in compliance with International and Gulf Countries standards.
This expansion added significant value to our activities in this area, and made us persistent to pursue the development and progress to catch up with top major contracting companies. Supported by a technical and engineering team with extensive experience in the field of contracting, construction and projects implementation backed by an ambitious and conscious management.